Registration is due
March 22, 2017
Registration for Conclave is due by May 1st. Please get your forms in early.
---
Reception for Gabriel H. Jones-Gallardo | International Congress Secretary
March 08, 2017
---
Kach Essay 2017
March 06, 2017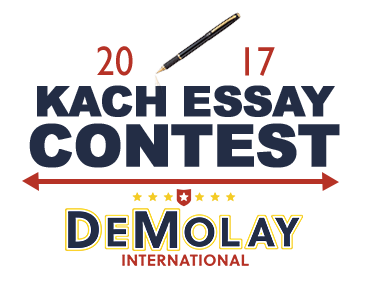 Enter the 2016 Scottish Rite, Paul R. Kach Essay Competition and share your thoughts and ideas on the theme. Win Money!
The Paul R. Kach, 33° Essay Competition awards $300 to each Region Winner (2 Region Winners from each of the 10 Regions) and $1,200 for the National Winners (2 National Winners). For the two National Winners, their combined winnings are $1,500.
The 2017 Kach Essay Theme:
"How has DeMolay made you a better son and leader…
---
Talent Show Winner
March 06, 2017
At the annual talent contest held each year after DJR, newly initiated DeMolay, Payton Maerz, of Capitol Chapter, won
First Place. In addition to the piano and guitar, Payton plays 4 other instruments.
Congratulations, Payton and all the other entries!
---
DJR
March 06, 2017
DJR was held on Saturday, March 4th, 2017 at West Salem Masonic Temple and the Scottish Rite Center. DeMolay initiated 7 new members! A good time was had by all.
---
Conclave 2017 Ad Sales
December 02, 2016
Below are the links to the 2017 Ad sales letters and forms.
**Please Note: The 3-part forms are at the printers now and will be sent to the chapter soon**
If your Chapter has left over 3-part forms from last year, you can use them to get started.
For the 2017 ad sales General letter click Here
For the 2017 ad size Click here
For the 2017 ad forms (note: Not 3-part) Click Here
If you have any questions Please Contact Anna Lamb at office@oregondemolay.or…
---
2017 Conclave Registration
November 29, 2016
2017 Conclave will be held May 26th-29th at Kah-Nee-Ta Resort in Warm Springs, OR.
Prices for 2017 are as follows:
$275.00-All DeMolay, Sweethearts, and other youth (4 Per Room)
$400.00-All Chaperones, Advisors, and other adults (2 Per Room)
$500.00-All Chaperones, Advisors, and other adults (1Per Room)
Registration forms can be found here.
Remember, this year you can pay in installments thru the webpage. Just click on the "Make Payments to Oregon DeMolay" button…
---
2017 State Officer Applications
November 20, 2016
The 2017 State Officer Application and 2017 State Officer Expectations are now ready to be filled out and mailed in.
If you are interested in being a State officer and are qualified, You need to fill out an application and get it to the address listed at the bottom of the form.
Click here for the State Officer Expectations letter
Click here For the 2017 State Officer Application
Please note that they are in PDF format and can be filled in online.
Thank you and Good Luck!