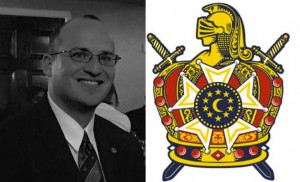 Kansas City, Mo – DeMolay International is proud to announce that Grand Secretary Keith K. Klein, PGM with the approval of the Board of Directors has selected Christian D. Moore as the organization's new Executive Director. The announcement follows a rigorous three-month worldwide search undertaken after current Executive Director Michael C. Russell's announcement that he would be stepping down June 30, 2017. Brother Moore currently serves as the Director of Retreat Ministry with the Rio Texas Conference, United Methodist Church. Dad Christian has served as a DeMolay Advisor for the past 13 years with Teddy Roosevelt Chapter. He received his Honorary Legion of Honor in 2016. He and Mr. Russell will begin a one-month transition starting June 1, 2017.
"Christian comes with extensive knowledge in non-profits and was highly recommended within the masonic and DeMolay communities. Not a Senior member himself, he is well respected as a DeMolay Advisor. We saw more than 40 well-qualified applicants and through many phone, panel, and in-person interviews, Christian stood out. We are extremely excited to have found a new Executive Director with the leadership, poise, and non-profit experience of Brother Moore," said Keith K. Klein, PGM.
Current Executive Director Michael C. Russell said, "Christian Moore brings immense institutional knowledge as a DeMolay Advisor and a strong desire to continue a trend of upward momentum. I believe that he has the vision and leadership skills that can make a significant, positive difference for current and future efforts to transform DeMolay International and continue our fight to keep DeMolay International mainstream. The transition between the two of us is vital to ensuring progressive energy stays at the top of our minds. Simply put, I couldn't be happier with the selection."
Christian Moore holds a Bachelor of Science in Recreational Administration from Texas State University and is a Certified Parks & Recreation Professional.
"I am deeply honored to be entrusted with this new opportunity to serve the young men of DeMolay. As we prepare to celebrate the organization's centennial, the lessons of DeMolay are needed more than at any other time in our history. I look forward to working with our dedicated staff and leadership to provide a high-quality membership experience that will make a positive impact on our young men, preparing them to be leaders in our communities."